I have been working with Luis Lara Malvacias since 2005. Our latest collaboration is a wonderful performance called AMANDA & THE BLACK VOID OF SPACE, directed by Luis, which we made this spring at the Warehouse 9 in Copenhagen, and performed at the Joyce Soho afterwards in New York. AMANDA might be his most radical piece (from what I've seen), it is also amazing and I will encourage everyone to go see it september 8th at OT 301.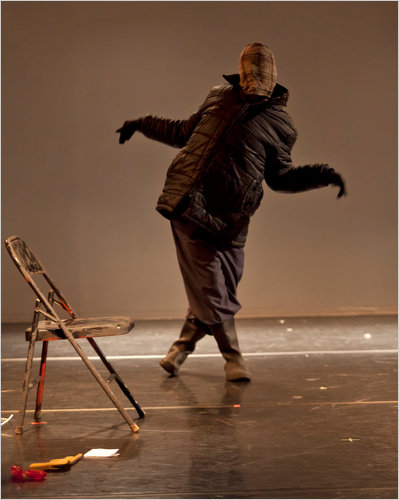 In a black void, dreams, reality and fiction become intertwined. The only thing remaining is the body, and its history. In AMANDA & THE BLACK VOID OF SPACE, Lara Malvacías explores unpredictability and theatrical narrative.
AMANDA & THE BLACK VOID OF SPACE is produced by 3RD CLASS CITIZEN, Warehouse 9 in Copenhagen en Joyce Soho in New York. Luis Lara Malvacias / 3RD CLASS CITIZEN has created several touring performance/installation projects that involve multi-cultural and multi-disciplinary collaborative projects and events presented in non-conventional spaces. Luis Lara Malvacías has been presenting experimental dance works in New York, Europe and Latin America since 1994.
LUIS LARA MALVACIAS / 3RD CLASS CITIZEN Performers: luis lara malvacias, jeremy nelson, manuel alfonso perez torres Music: ivo bol Lights: david tirosh, katinka marac and luis lara malvacias